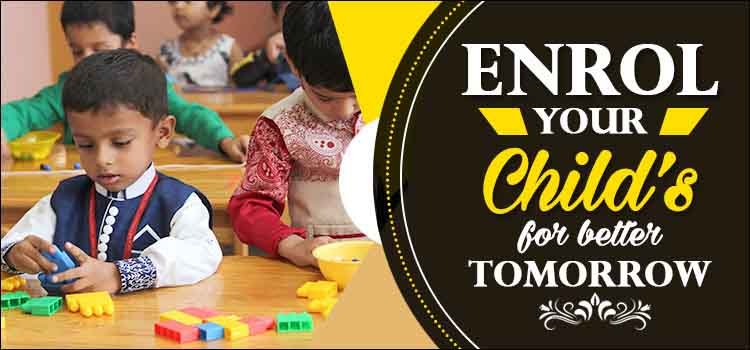 ChalkTree Global School – Best Nursery school in Gurgaon
Children under four-five years undergo very crucial years of development. Their mental development, at this stage, is faster than the physical one. They start recognizing and remembering things. Teachers having their cognitive, social and emotional backdrop in mind help them in forging their understating towards the individuality of kids. Though formal learning takes shape in later years children of this age spend the majority of their time in play/ aided learning and are engaged in other activity based learning facilitated by their teachers.
At this stage, they acquire discipline and learn things that can facilitate their later training. We, at Chalk Tree Global School, make all possible efforts to endow kids with the homely feeling in the disciplined environment to be the highly preferred Nursery school inGurgaon.
Our nursery staff works in smooth liaison with primary staff to assure efficient transition of kids at both the stage. Children at this stage are very sensitive and can't bear a change of their teachers; they take time to socialize. Thus we ensure permanent faculty with a considerable student-teacher ratio to pay equal attention to individuals. We organize small group experiences to understand each other and encourage them to produce phonics, linking sounds and words, remembering the number, solve simple mathematical problems, identifying physical world around them and attaining other academic excellence. To promote their social activity, we involve them in free play, group mind games, making them sing rhymes together, sharing lunch and so on. Their active involvement in games promotes the development of gross and fine motor skills, i.e., their physical development. As one of the Best Nursery school in Gurgaon, we believe in ensuring holistic development of all our students to bring the best out of them.
Our well-trained staff, with an understanding of children's emotional, intellectual, social and physical development, handles kids with patience and tolerance. Their good communication and interpersonal skill prop up understanding on the part of kids.
The simple value-based curriculum helps us to plunge deep in the child's understanding to make them learn concepts.
We respect the cultural differences and share the differences to make our children comfortable with them all and to accept them without any bias. The courteous, warm and caring environment helps us to encourage support as well as challenges, to bring the best out of them and to make their life fulfilled. Values learned at this stage leave a lifelong mark, and thus we impart positive activities to ensure a satisfactory positive result.
Parent-teacher relationship is one of the most valuable daises to lay students' foundation from both the side. Students are given informal training at home and formal at school, they learn novel things from both the ends and being a Top Nursery school in Gurgaon, we value suggestions given by the parents and them in child's routine.
From age 3 to 5, children start attending Top Nursery schools in Gurugram. It is the perfect time to stimulate cognitive, social and emotional skills. The top nursery schools in gurgaon, Chalk Tree Global School is the ideal place for little ones to grow and develop.
Select Best Nursery School in Gurgaon
The finest nursery schools in Gurgaon try to make learning interesting for young children. Here's what you can expect from them.
Excellent teacher-student ratio
Fun learning activities
Phonic based teaching
Active participation in games

Chalk Tree – Top Nursery School in Gurgaon

Top nursery schools such as Chalk Tree understand the basic requirements of young minds. The staff help to develop,

Good communication skills
Interpersonal skills
Discipline
Obedience

Enrol your child in one of the finest nursery schools in Gurgaon, Chalk Tree Global School. With excellent infrastructure and great staff, the school provides the perfect environment for making learning fun and interesting. Call us now at +91 7701872424 or +91 8800885560 or write to us at info@chalktree.com for more information.